Advanced Winemaking with the GOfermentor
Automated Punch Built-in Press
The Gofermentor is a patented automated wine making device that ferments in single-use liners. This system not only eliminates punch-down labor, but also presses the wine out with a click of a button. Water usage is vastly reduced (by 90% on average). No washing, no steaming, no detergents. Minimal waste water generation helps the environment.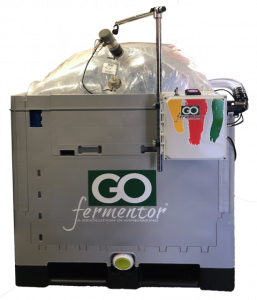 Up to 1-ton grape capacity.
No installation! 4′ X 4′ space. 110VAC. Plug and Play.
Automated punch-down. Set schedule on the controller or your smart phone.
Built-in press. Insert pressing tube and pump out the wine.
Medical grade BPA-free biodegradable single-use liner. No contamination. No off-odors.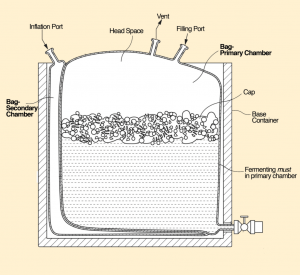 Automatic Punch
Instead of the traditional "punch-down" the GOfermentor performs a "punch-up"! This unique concept is only made possible by the use of flexible bag technology, and is the secret to the GOfermentor's superior extraction of color and flavor. The advanced instrumentation logs data, events and alarms. A smart phone app allows remote monitoring and control over the internet from anywhere in the world.
Optional sampling tube allows samples to be withdrawn at any time. The sampling tube includes a temperature sensor.
Temperature Control
An optional stainless steel heat exchanger plate can be placed under the GOliner and connected to chilled water or glycol. The heat exchanger has a control valve that automatically maintains the desired temperature during the fermentation. It can also be used to heat.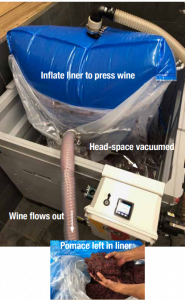 The GOfermentor uses the secondary inflation chamber as a built-in bladder press. Pressing takes less than an hour.
How The Press Works
Remove temperature probe, insert perforated stainless pressing tube. Remove vent valve and cap. Connect pressing tube via crush-proof hose to a pump. Pump must be self-priming and have at least 2″ discharge ports.
Start the pump. The head-space will vacuum out. Then the clear free-run wine will flow out from the GOliner to the collection container. Any skins, seeds, and stems will remain in the liner. Once free-run stops; activate the Press function to inflate, squeezing the pomace dry. Then disconnect and discard the GOliner containing waste pomace.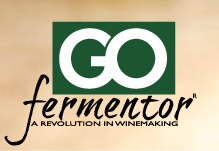 Manufacturer's website